Holiday Office Party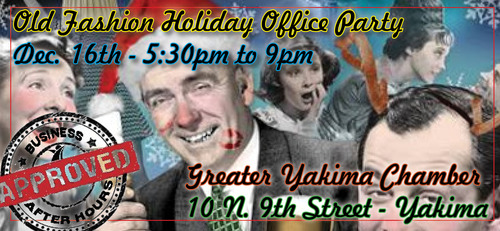 You are invited to attend the Annual Old Fashion Holiday Office Party!
Greater Yakima Chamber of Commerce -10 N. 9th Street Yakima, WA
Good Friends, Great Food, Music, & Cheer!
With Games & Prizes, Local Wines & Craft Beer!
$10 Members/guests - $20 Nonmembers
Cash/Check/Charge at the door!
Huge Raffle - Santa's Sleigh of Prizes!
$5—1 ticket
$20—5 tickets
4th District Candidate Forum VIDEO
Dan Newhouse and Clint Didier Candidates for 4th District Representative

Each candidate had five minutes to introduce themselves and their platform, three minutes to answer each question, and four minutes for closing remarks.
The questions were;
Do you support plans for new water storage in the Yakima Basin?

2. What is your position on immigration reform?

3. What is your position on Health Care reform?

4. Do you support the Market Access Program, the re-authorization of the Ex-Im Bank, new trade agreements, and other measures to promote U.S. exports?

5. The U.S. has the highest corporate tax rates among major economies, putting U.S. businesses at a disadvantage. What is your position on business tax reform?

6. College affordability is a concern for many families and employers, what is your position on federal student loan programs?
Annual Report
It was a busy 2013-14...here's how your investment in the Chamber continues to GROW the Community!
2014 Ted Robertson Community Service Award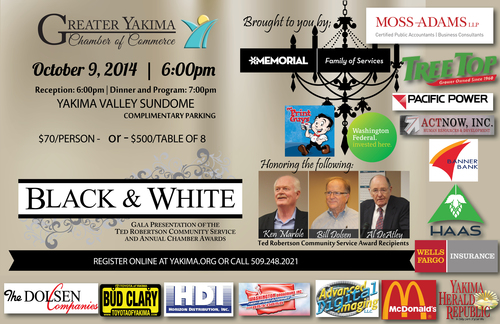 Thanks for attending The Annual Chamber Ted Robertson Community Service Awards.
AND THE WINNERS ARE......
CHAMBER VOLUNTEER OF THE YEAR
This award is given to a person from the Chamber Board, Chamber Ambassadors, or Chamber Committees who has gone above and beyond in their commitment to serving our community and the mission of the Greater Yakima Chamber of Commerce.
NON-PROFIT ORGANIZATION OF THE YEAR
This award is given to an organization that has been outstanding in their service to the Yakima Valley, and has shown exemplary success in achieving their mission.
EMERGINGBUSINESS OF THE YEAR
This award is presented to a newer business that demonstrates a high level of customer service, innovation, focus on quality, and involvement in the community. This award will recognize an organization that has achieved a presence in the business community and has demonstrated consistent and significant growth within the last two years.
MEMBER OF THE YEAR
This award is designed to celebrate an individual or business in the community who demonstrates a commitment to community involvement and promotes the positive spirit of the Yakima Valley. A person or business that excels in community involvement!

BUSINESS OF THE YEAR
This Award recognizes the superior performance of a Yakima Valley business, the strength of the candidate's leadership team, workforce, and the company's history of recognizing and seizing market opportunities and leading the business community.
Share this Page
Featured Members