Government Affairs Committee - 7/22 Auditor Candidate Forum

All members are welcome to attend the Government Affairs Committee meeting on July 22nd - Brown Bag Lunch Forum from Noon - 1pm
Yakima County Auditor Candidate Forum
Micah Cawley
Charles Ross
Earl Hall
Kyle Freeborn

Greater Yakima Chamber of Commerce - Mercy Leadership Center
10 N. 9th Street - Yakima
Government Affairs Committee
Government Affairs Committee Meetings are open to all members in good standing, 4th Tuesday of the month at noon at the Chamber - Brown Bag Meetings
Greater Yakima Chamber of Commerce -- Government Affairs Committee
WA 14th Legislative District Position 2 Candidate Forum
Paul George -- Gina McCabe -- Ben Shoval -- Adam Yoest
This is a portion of the candidate forum held at the Chamber on June 24th 2014
(In this video)
1. Opening Statements and Introduction
2. If elected what will you do to improve Central Washington Business Climate?
3. How would you close the gap between State revenue and planned spending?
4. What is your position of the Governor's proposed carbon cap and trade system and the low carbon fuel standard?
Leadership Yakima Class of 2014
The Greater Yakima Chamber of Commerce and Yakima Chamber Foundation Congratulates the Leadership Yakima Graduates of 2014
Yakima, Washington (June 18, 2014) - The Greater Yakima Chamber of Commerce is pleased to announce our 28th graduating class of Leadership Yakima.
Leadership Yakima is a program designed to develop future leaders for our community. Participants learn about our valley's history, learn many rea-sons to be proud of our valley, build relationships with their classmates, and learn how our community gets things done. The program was designed to teach our current and emerging leaders the skills necessary to serve our diverse community and provides an opportunity to discover many different organizations and agencies that need volunteers and board members.
Leadership Yakima Class of 2014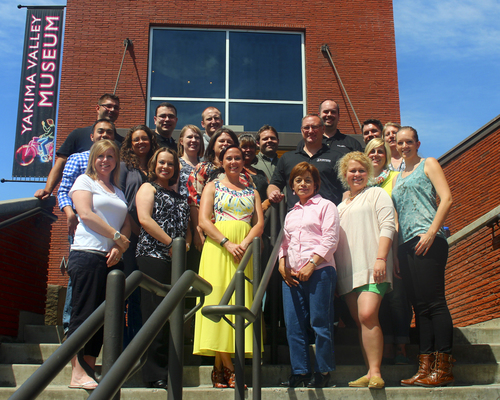 Ben Beckman - Solarity Credit Union
Justin Bellamy - Huibregtse, Louman Associates, Inc.
Evan Casteel - Yakima Valley Memorial Hospital
Adam Coe - Yakima Federal Savings and Loan Assoc.
Jeff Cowman - Memorial Hospital/Sleep Center
Amanda Cutter - Avail Home Health, Inc.
Carly Faul - Central Washington Home Builders Assoc.
Kelly Fox - Tacoma Goodwill
Scott Haney - Shields Bag and Printing
Christie Herbst - Yakima Waste Systems, Inc.
Charlotte Hinderlider - Yakima Valley Libraries
Alex Juarez - Banner Bank
Linda Leavitt - WA State Dept. of Corrections
Eva Lounsbury - Tree Top, Inc.
Luz Monroy - La Casa Hogar
Lacey Offutt - Halverson Northwest Law Group
Stephanie Ray - Huibregtse, Louman Associates, Inc.
Tricia Robertson - Memorial Physicians
Chelsea Marie Snodgrass - Perry Technical Institute
Jon Trenkenschuh - Evergreen Financial Services, Inc.,
Sara Willson - Solarity Credit Union
Application for Leadership Yakima Class of 2015 - Click here
Yakima Finalist All-America City
Yakima Chosen as Finalist for All-America City Award: Spotlight on Healthy Communities
Yakima was chosen as one of 25 finalists for the coveted All-America City award presented annually by the National Civic League. This is one of the country's most prestigious civic awards. To date, more than 600 communities have won the award; Yakima last received a top 10 designation in 1994.
Our featured civic achievements included in the initial application were;
The amazing story behind the Pacific Northwest University of Health Science, where a group of local health care professionals decided to address the shortage of doctors by raising the funds and building the first medical school in the Pacific Northwest in sixty years.
The Yakima Gang Free Initiative (GFI), which works on the belief that gang issues are a detriment to a healthy community and need to be addressed in a coordinated effort. The program uses prevention and intervention efforts, like helping "at-risk" kids find alternatives to joining gangs through tutoring and teaching life skills.
The final section focused on a number of educational advancements to ensure that our youth receive every possible educational opportunity to succeed.
While we were not selected as one of the top 10 finalist for 2014, we were very pleased with the support of the community and the opportunity to present these outstanding civic achievements.
In 1994 a coalition of our community applied for and became a finalist for the National Civic League designation of All America City. Take a quick look at the team that brought it home in 1994!
Share this Page
Featured Members